Markus Fuhrer
06. September 2023, aktualisiert am 17. September 2023
2 min Lesezeit
Webinar
Live Webinar: RadiMation® - one Software for all EMC Devices 20.09.2023 - 10:00 AM
Date / Time:

20.09.2023 at 10:00 AM CET
Duration:
approx. 45 min.
Setting:
Webinar
Presenter:
John de Rooij, Senior Software Engineer, Raditeq
Markus Fuhrer, EMC Product Manager, Emitec Industrial
Price:

Free of Charge


Language:
English
Complex EMC systems are often controlled with one software. Usually the device manufacturers deliver control software with the devices, which leads to the fact that the user has to install several software. Radimation is a universal control software from Raditeq, which controls practically all EMC devices available on the market. EMC users, who also want to generate a report, get a tool which creates the reports according to a uniform philosophy.
Webinar Content:
What is RadiMation
Short history of RadiMation
which test devices are supported, device drivers
What EMC tests (standards) can be tested with RadiMation
Typical setups for
Emission measurements: EMC halls, GTEM Cell, conducted emission.
Immunity: Radiated, GTEM Cell, conducted RF with CDN, EM clamp and BCI
Pulsed Immunity: EFT-burst, surge, ESD, Voltage-dips-and-interrupts
Report functions within RadiMation:
Functions in report, export to Word, Excel etc.
Insertion of measurement data, graphics and tables
header design with logo and company data
Exporting (graph-)data
What information does Raditeq need for installation of the RadiMation Software?
Software options for RadiMation
Requirements of the RadiMation software
Where to contact for buy RadiMation ( Emitec Industrial, Switzerland)
Your participation would be much appreciated!
Registration Link öffnet in neuem Fenster.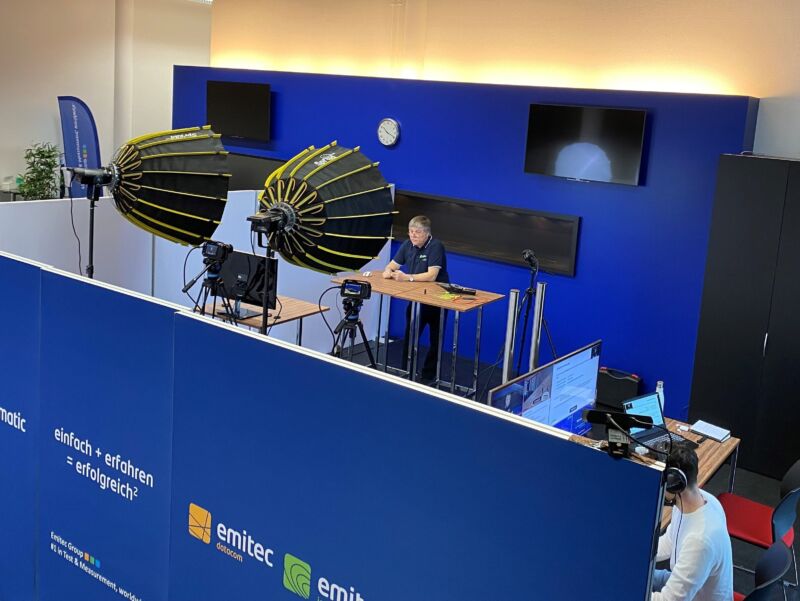 Our webinars take place from the professional TV studio.